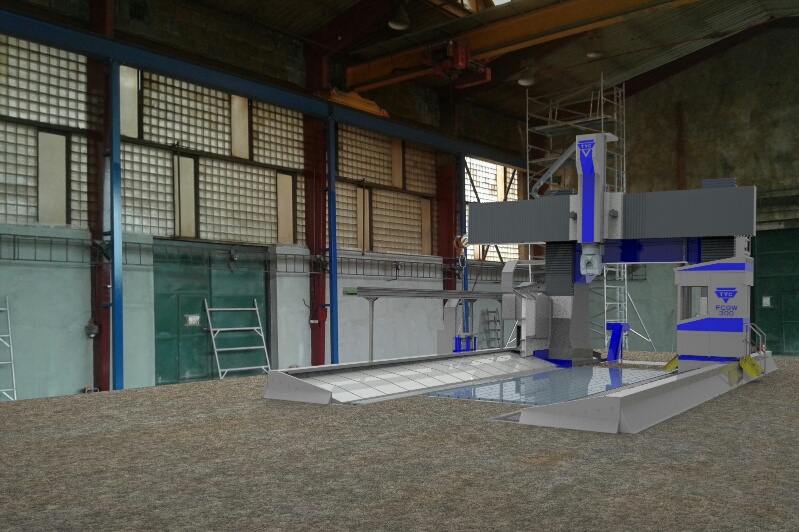 The FSGW machine is the modern centre with modular construction which allows to configure all parametres in accordance to customers requirements. Right configuration of the machine and accessories makes the machine suitable for milling, drilling or turning operation with 3 axes to 6 axes. Height-adjustable crossbeam provides machining of large parts up to 3500mm.
Tento typ stroje má portálovou konstrukci. Je standardně vybaven pohyblivým portálem s lineárně vedeným výškově přestavitelným příčníkem. Stůl je tvořen litinovými základovými deskami, které mohou být nahrazeny nebo doplněny speciálním upínacím přípravkem. Lineární vedení s výškově přestavitelným příčníkem zároveň umožňuje při velmi vysokých obráběných dílcích velký průchod pod portálem a dojezd blízko k deskám u nízkých dílců. V tomto případě není nutné měnit polohu upnutého obráběného dílce.
The machine is intended for machining of a big workpieces (especially long and heavy workpieces) and there can be machined small and curvy pieces as well. In addition with turning table it allows to turn rotary workpieces as on the vertical turning machine
Stavebnicový systém konstrukce stroje FSGW umožňuje sestavit stroj v širokém spektru rozměrů a to jak na šířku, tak zejména na délku. Pro obrábění dílců z 5ti stran je stroj možné vybavit 2-osou hlavou v provedení s indexací nebo s možností souvislého řízení
Stroj se vyznačuje vysokou tuhostí konstrukce, přesností obrábění a univerzálností použití.
Nezávazná poptávka
Máte dotazy?
Kontaktní formulář